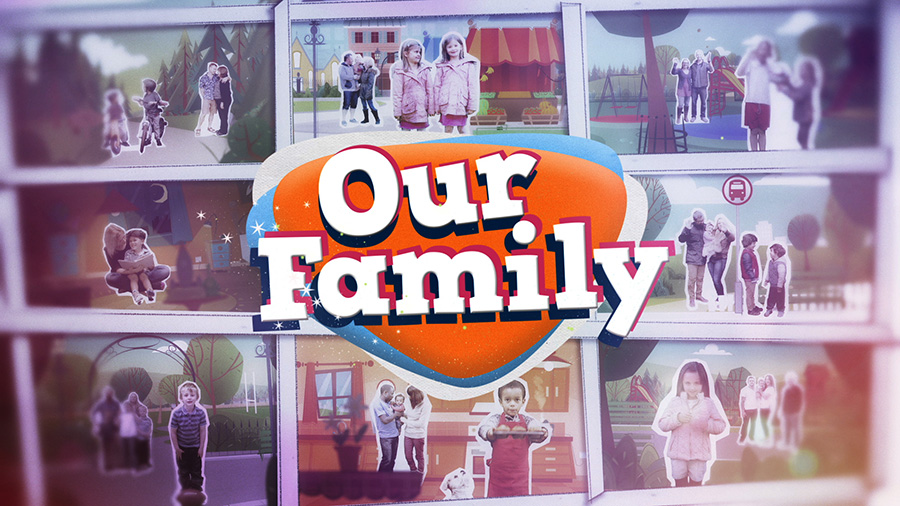 Thanks for your interest in the new series of CBeebies' Our Family.
Please find below some further information outlining who we are looking for, what would be involved if you were to be selected and answers to common questions. If after reading it you would like to apply, then please click on the link and complete the online application form.
What age children are you looking for to be the main contributors in the show?
Any child aged between 3 and 6 years old (as of 2016).
Will the whole family be filmed?
Yes – it is essential that parents, siblings and ideally extended family and friends are happy to be filmed.
Are you looking for anything specific?
Only that the child and their family want to be filmed and will enjoy and grow from this unique opportunity. We are looking for all types of families in every respect, and the series will fully reflect the great diversity of the UK and its family life.
When will the filming take place and for how long?
The filming is currently scheduled between September 2016 and April 2017. It will be approximately 10 days filming with each family in a number of blocks covering holidays and / or term time. The actual dates will depend on the events happening in your lives, locations and availability.
What is the style of filming?
The series focuses on the delights of childhood and loving family life, and will be shot in a fly-on-the-wall observational documentary style. This means the crew will be filming real everyday family activities as and when they happen, fitting around the family's real schedules, routines and plans. The producers' pride themselves on capturing authentic and magical moments from children's lives.
How big will the crew be?
The crew will consist of a team of 3-4 members. 2 crew will be on small cameras filming, one will be doing sound, and often there will be a fourth person called a runner who helps with anything and everything. All of our staff are passionate about working with young children, and specialise in this area. They are all DBS checked to work with children and have undergone specific training.
Who is the company making the series?
Sixth Sense specialises in producing children's content for all ages and is the team behind the first series as well as CBeebies' Time For School. Over the past 15 years we have continually delivered high quality, creative and groundbreaking series for children. Owned by Sallyann Keizer, she and her team have a number of prestigious children's awards amongst them – from BAFTA's to an International Emmy. Most importantly the Sixth Sense family is passionate about delivering children's content that is authentic, entertaining, and fun, whilst making the filming experience a wonderful one to always remember!
When will the series transmit?
It is not yet confirmed, but it likely to be shown in 2017.
Will we get to see the programmes before they are on TV?
Yes – Sixth Sense will give families the opportuinity to see their episodes before transmission.
If you would like to be considered to be part of this exciting series then click on the apply button below to compete an online application form. If you have any further questions please email family@6sense.co.uk